The ai-driven
Legal as a Service Platform
for startups and scaleups
Get a discount of 25-85% on all PACTA modules you need to legally secure your growth and not fail due diligence in your next financing round. On PACTA, you have on-demand access to automated legal advice from our renowned premium partner law firms and have your documents and workflows analysed by artificial intelligence.
BENEFITS
You cannot and do not want to wait days and weeks for legal bureaucracy or pay hourly fees of traditional law firms. We understand that only too well. Time is money and capital must be used in a targeted manner.
This is exactly where PACTA comes in and offers you the opportunity to organise your contracts and legal processes in a legally secure way without much effort or long waiting times at reasonable flat rates.
One central platform for all your contracts
A contract involves at least two people. However, normally many people have at least one point of contact with the life cycle of legal documents. Those involved usually communicate independently of each other by e-mail or even by correspondence. Individual processes have to be forwarded, related, discussed and approved many times over.

PACTA allows you to have all legal processes managed on a single platform by our premium partner law firms and realised by you. PACTA maps the right workflows for each internal and external stakeholder.

In this way, you create a uniform solution for all participants and optimise the entire life cycle of your legal relationships with customers, employees, investors and law firms.
Scalable legal hub on demand
In order to create an alternative to the high costs and long consulting cycles, founders often individualise their contracts themselves without legal advice or indiscriminately use the next best contract generator from the first Google ad. This often leads to legal errors that cause the next financing round to fail at the latest during due diligence, e.g. due to missing or incorrect confidentiality obligations, clauses on the transfer of IP rights or potential claims for damages.

With PACTA, you have your legal processes controlled by experts and analysed by Themis, our artificial intelligence. The PACTA Forms and Risk Analysers of our premium partner law firms determine a legal framework in advance, within which you can already move with legal certainty when drawing up or reviewing contracts. If individual contract clauses go beyond this framework, you start an automated process for approval or revision by our premium partner law firms.

In this way, you create more legal certainty and eliminate on average 75% of the sources of error in your company's legal documents.
Virtual assistance for contract review & monitoring
Price guarantee and legal advice right from the start
Lawyers' hourly fees are often neither transparent nor calculable for young companies. The world of start-ups and scale-ups is therefore crying out for flat-rate prices and modern consulting alternatives.

PACTA enables you for the first time to access a Legal as a Service offer for start-ups on demand, which is billed on a monthly or annual flat. You know exactly what you will be charged before you start using PACTA. Get the legal content of our premium partner law firms in a modern user-centric design and let Themis take care of the rest.

In special cases, individual advice from a specialist lawyer with expert status is just one click away.
Optimising your contract negotiations
Currently you coordinate with your clients, colleagues and investors by endless email strings, hundreds of comments and edit Word documents in mark-up mode and circulation.

In the PACTA Collaboration Room, you negotiate and edit your documents together with all parties in real time. This halves both the number of steps you need to take in negotiations and the time you need to spend coordinating with others.

In addition, PACTA records all editing processes, approvals and signatures in an audit-proof manner and makes them available to you in a complete audit trail.
Sustainability and cost saving
Contract Lifecycle Management
Collaboratively create, check, negotiate, digitally sign and update legal documents, automate legal processes and analyse them in a data-driven manner. Access a complete Legal as Service package on demand, from initial advice to ongoing compliance activities.
Process Automation
PACTA Workflows
1
Automated Document Drafting
PACTA Forms
2
Automated Contract Review
PACTA Risk Analyser
3
DMS, OCR, Collaboration & Negotiation
PACTA Cloud
4
Approval & Signatures
PACTA Signatures
5
Monitoring & Reporting
PACTA Analytics
6
Compliance & Streamlining
PACTA Clause Database
BEST PRACTICE
Streamline your legal processes from drafting start-up documents and initial client contracts to negotiating funding rounds and managing the term and termination of your employment contracts. For example, your new PACTA workflow for hiring employees with an employee stock option plan (ESOP) could look like this:
1
Automated drafts of an individualised labour contract including ESOP and NDA via mouse click
2
Automated storage and access management of documents in the PACTA Cloud
3
Automated notification of all founders via email or ping on PACTA
4
Approval of the contracts by all founders and managing directors by mouse click
5
If required, automated sharing of contracts with the employee or law firm and final fine-tuning in real time in the PACTA collaboration room
6
Electronic signature of the contracts by both sides
7
Storage of all legally compliant documents for the next due diligence in the document management system of the PACTA Cloud
8
Automated data analysis by Themis (AI) and monitoring of the most important contract parameters in tabular listing
9
Automated reminder of the end of the term or notice of termination deadline of the employment
10
Legal monitoring and compliance of your documents and clauses by our premium partner law firms in the PACTA clause database
Our early-stage discount in the first year of the contract:

85 % up to 20 employees

50% up to 50 employees

5 PACTA signatures per month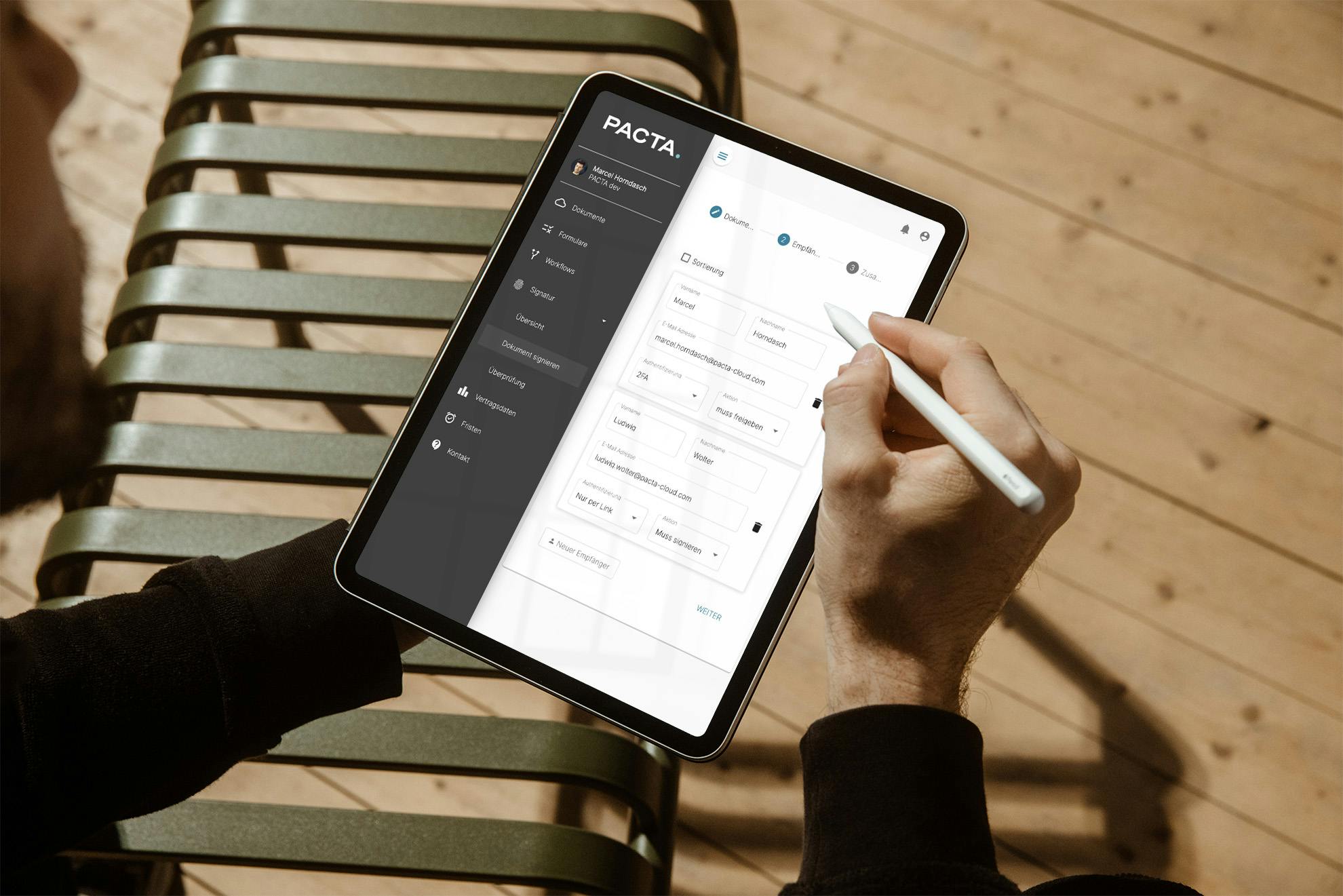 FAQ
What exactly is meant by document automation?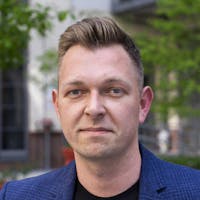 Michael Czapla
Senior Sales Professional
With PACTA, you can automate more than just the creation of contracts. Rather, with PACTA you can automate all your legal operations holistically. From upload to draft, approval, signature, data extraction and deadline management - with PACTA you automate the entire lifecycle of legal documents.
How does document analysis work?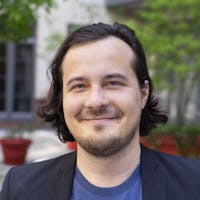 Arthur Gogohia
Data Scientist
For our automated extraction of relevant information from documents, we rely on state-of-the-art deep learning architectures. In the first step, a specially trained neural network recognizes important parts within a document. In the second step, our algorithms process this information into insightful findings. In the third step, the data is sorted and clearly presented on the platform.
How does automatic text recognition work for documents?
Jeffry Cacho
Data Scientist
We achieve automated extraction of text from scans in two steps. First we use image processing algorithms to optimize the quality of the scans. Our customized deep learning model then detects existing text in the image with pixel precision and converts it into digital text. This makes scans searchable and eliminates the need to manually type out the text.